Here originates the internet initiative
"Babirusa in Nantu Adudu"
A mysterious, primeval-looking animal roams the rain forests of Sulawesi:
The Babirusa (Babirousa babyrussa)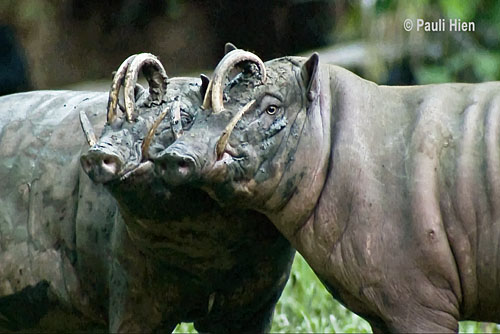 There are only about 5,000 of these fascinating animals left distributed on the islands of Sulawesi, Buru, and the archipelagos of Sula and Togian in Indonesia, and still every day the number declines. Poaching and deforestation is threating its existence. Probably the only place where nature loving travelers in Indonesia are quite easily able to observe this astonishing creature is located in Paguyaman forest west of Gorontalo in North Sulawesi, at a beautiful place called Nantu Adudu. By visiting in the course of an eco-tourism initiative, you not only help to preserve this amazing animal from extinction, but you also help to preserve permanently one of the most beautiful and unspoilt rain forests of Sulawesi with its rich fauna and flora.